I grew up with the Weekly World News... It gave me so much inspiration. When I was like 11 or 12 I even did my own wanna-be Weekly World News. I used to type it up on my Brother word processor and take it to A.A. Video to make copies. Copies were like 20¢ each.

Weekly World News was The Onion before The Onion.

The imaginative tabloid, which gave the world Bat Boy, Ed Anger and a woman celebrating her 7-year wedding anniversary with a space alien, is no more. They're shuttering the publication in August. No reason was given.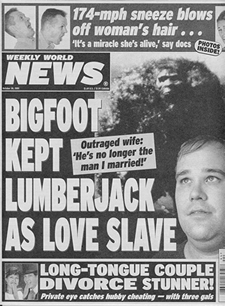 Staff writer Bob Greenberger
commented on his blog
:
"Friday morning, Jeff Rovin comes in for a meeting and then the staff was to be called in. He's looking harried, not at all relaxed. At 11:30, we're finally shown into an office where we are told the Board of Directors has chosen to close Weekly World News. The reasons given make no sense. We're stunned and shell-shocked. We're to stay on through August 3, finishing the reprint issues and then we're done. A glorious, funny, odd publication, born in 1979, will go out with a whimper and all I can think is that something's going on that they're not telling us because it just doesn't make sense."

The UFO- and Bigfoot-loving tabloid had its share of fans.
The Economist
ran a
loving obituary
for late WWN editor Eddie Clontz and the
Wall Street Journal
even found room to
praise the magazine
. It was also known as a reliable source of paychecks for science fiction and fantasy writers looking to make a few extra bucks.
Unfortunately, the tabloid's circulation sharply declined over the past five years and there's also speculaton that publisher American Media's
financial troubles
might have something to do with it.