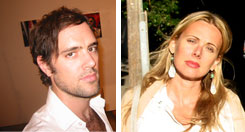 I'm sitting here at my desk, putting the finishing touches on a bistro salad with bleu cheese crumbles, caramelized pears, raisins, grapes, candied walnuts & field greens in a white wine vinaigrette and thinking: enough is enough. I don't care about the CoS, Anna Gaskell or Jim Cownie; I don't care about MKULTRA, the CIA, "Project Monarch" or any of these conveniently coincidental conspiracy theories anymore in regard to the sudden deaths of artists Theresa Duncan and Jeremy Blake because they have nothing to do with it. The only thing that matters is that two innovational and hyper-creative people are now gone and it shouldn't matter why. Everyone fights their own demons and we, the living, can be sadistic in our hunt for the details neglecting that two human beings are gone; people like you and I; they weren't intangible, disposable big shot celebrities on loan to us by the world. We all do it but I'm as guilty as anyone, if not more so, by perpetuating it with this blog and posting on others. The story shocked and intrigued me for reasons I can't fully explain. I learned a lot about these two personas over the past few days; I can't say I learned of them as people because I never met them and gleaning "facts" from the internet doesn't count for anything. There is no mystery to me when it comes to Jeremy's dramatic death. Theresa may've been depressed and she decided to seize fate. She made her decision. But Jeremy... I know if I came home to the converted church I was living in with my beautiful soulmate of 12 years, I'd probably take a one-way ride to Rockaway Beach as well. There is no mystery. Let's leave the details and speculation alone now. Two brilliant demiurgic people are gone and thats the story. That's where it ends. They were in love and impulsive and young and couldn't live without each other. Let's not make it ugly anymore by dissecting every last word. There is beauty in mystery and letting it be. Let it hang like a cloud and stare at it from afar; don't reach behind it to check if it's real.

I don't want to become a monger. I refuse to become a monger.

According to a friend of Theresa's, Vanity Fair and CNN & Anderson Cooper are planning coverage of the Blake and Duncan double suicides. Great. Whatever. Take it away, world. I'm going to leave it alone now. We're all haunted. We've all been haunted by our own minds. Let's not pretend it's so far out to imagine the unimaginable.


"All I do know, the hard way, is that the artists and writers who come up with extraordinary answers are often deeply and terribly haunted by the questions that prompt them, and you can never second guess what it is to be haunted by ideas, by angels or demons or history or visions, by reality or imagination." --Glenn O'Brien (an excerpt from Theresa's eulogy)
See all posts on this story