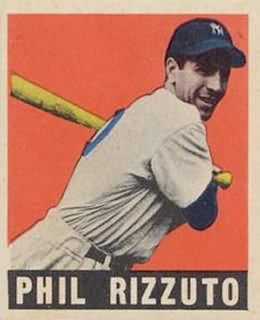 The famous shortstop for the New York Yankees from 1946-56, who became equally famous for his work as a colour broadcaster after his retirement, has died.
You might also know
Rizzuto
from his famous play-by-play on
Meatloaf's
"
Paradise By the Dashboard Light
". It's rumoured that
Rizzuto
was unaware of the suggestive double
entendre
nature of his spoken contribution, and was initially annoyed by the song's success.
Rizzuto
was the longtime celebrity spokesman in TV ads for The Money Store. He was their spokesman into the 1990s after nearly 20 years. He also served for a number of years as the commercial spokesperson for
Yoo
-
hoo
beverages. It just so happens that I used to love
Yoo
-
hoo
when I was a kid - freezing cold from a can - and one of my first jobs in finance was working for The Money Store.
One of
Rizzuto's
most significant moments as a broadcaster included the new single-season home run record set by Roger Maris on October 1, 1961, which he called on
WCBS
radio:
"Here's the windup, fastball, hit deep to right, this could be it! Way back there! Ho

ly

cow, he did it! Sixty-one for Maris! And look at the fight for that ball out there! Holy cow, what a shot! Another standing ovation for Maris, and they're still fighting for that ball out there, climbing over each other's backs. One of the greatest sights I've ever seen here at Yankee Stadium!"
My grandfather Matteo grew up in the Bronx. I have many fond memories being a kid at my grandparents' house on 17
th
street in Brooklyn. Watching the miserable mid-1980's Yankees on hot summer afternoons with my dad and my grandfather. He'd sit in his chair, doze on and off between iced espressos and watch the Yankees. Phil
Rizzuto's
voice would and will always take me right back to that time.
Phil died at a nursing home in New Jersey. He was 89.