Obituaries: American Socialite Brooke Astor & New York Artist Elizabeth Murray

New York City's "First Lady", Brooke Astor has died. She was 105. PEACE.
Brooke
was the socialite and philanthropist wife of Vincent Astor, son of John A$tor, who died in the sinking of the Titanic. Brooke was also a novelist and wrote two volumes of memoirs.
The Astor family's roots stretch back almost as far as the history of New York City itself. The subway station at Astor Place in Manhattan is decorated with beavers, the animal whose pelt was the foundation of the family fortune before John Astor began buying large swathes of New York real estate.
Brooke spent half a century dispersing her husband's fortune to the city's museums and causes, great and small, donating more than $200 million.



"Oh dahling, pull over, I wanna get a pretzel... "

Brooke's will directs that the bulk of her estate upon death will be shared with organisations like the Metropolitan Museum and The New York Public Library. Unfortunately, I am not mentioned. We had a falling out back in '98.

When The New York Times got ahold of a copy of her will earlier this year, it disclosed several personal details. One was that she wished that the epitaph on her gravestone to simply read:"I had a wonderful life." That's a hard style.

The Times had recently run a story recently about how "the ageing doyenne of New York high society" had a $131 million fortune, including more than $1 million in jewellery, when her grandson alleged that she was living in squalor in her Park Avenue apartment with only "$816 in her back account."


********************************************************************************
New York Artist Elizabeth Murray has died after a long battle with lung cancer. HOORAY! She was 66.



"Did I leave the oven on?"

From the NYT: "Elizabeth Murray was a New York based painter who reshaped Modernist abstraction into a high-spirited, cartoon-based, language of form whose subjects included domestic life, relationships and the nature of painting itself.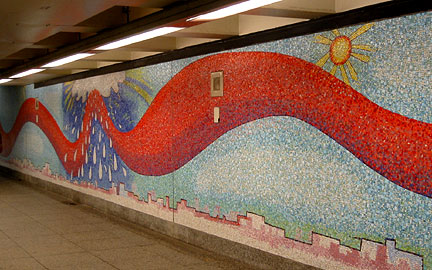 An intense, unpretentious woman with vivid blue eyes and an unruly nest of prematurely white hair, Ms. Murray received a full-dress retrospective spanning her 40-year career at the Museum of Modern Art in 2006, one of handful of women to be so honored. In 1999 she was the recipient of a MacArthur Foundation "genius" grant.

In the late-1980 and 1990s, Murray produced several large gritty canvases that appeared to have interiors, their bulging forms suggesting flattened vessels descended from her signature images of cups and goblets. Also around this time she designed two large mosaic murals for the New York City subway system: one is at the 59th Street and Lexington Avenue station in Manhattan and the other at the 23rd Street-Ely Avenue Station in Queens.




Yet around 2000 she embarked on an entirely new phase in works that marshaled together numerous small, irregular but flat-shaped canvases into lighter works that for the first time incorporated liberal amounts of white.

Murray grew testy when her coffee cups were described as teacups, which she considered dainty. As she remarked to the critic Elizabeth Hess in 1988, "Cézanne painted cups and saucers and apples, and no one assumed he spent a lot of time in the kitchen."




Read the entire article here before Das Times takes it down.
"When everything is going well and I'm completely involved in it, I couldn't tell you what I'm thinking about. If I get stuck in something, it's frustration, anger. Or, it's like stream of consciousness, the chatter, chatter, chatter of the mind." — Elizabeth Murray