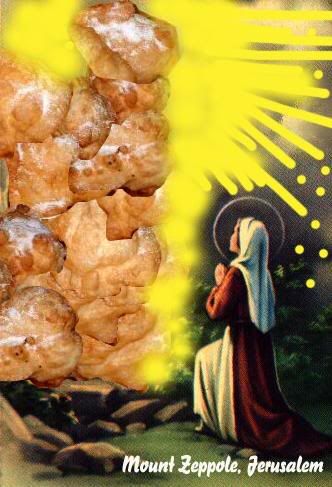 The 80th Annual Feast of San Gennaro, New York City's oldest, biggest and best religious street festival starts today September 13 and continuing through Sunday, September 23. Originally a one-day religious commemoration, is now an 11-day street fair.




The festival began in 1926 and is held along Mulberry Street betwixt Canal and Houston Streets in what is now the remaining area of Little Italy. Mangia! Mangia! It's open Sundays-Thursdays from 11:30 AM to 11:30 PM and Fridays & Saturdays 11:30am to midnight.



if you don't eat six dozen cannolis the terrorists win



eat, my son, eat

Presented annually since 1996 by Figli di San Gennaro, Inc., a not-for-profit organisation, this year's Feast will again bring more than 1 million people to the streets of Little Italy in the annual salute to the Patron Saint of Naples.

The street festivities – including religious processions and parades, free entertainment, food stands and a professional cannoli-eating contest – are capped on September 19th with a celebratory Mass and candlelit procession as the Statue of the Saint is carried from its permanent home in Most Precious Blood Church on Mulberry Street.

"The 2007 Feast of San Gennaro will be bringing the world to Little Italy, and Little Italy to the world," said Joseph Mattone, Acting President of Figli di San Gennaro, Inc. "It is a time for remembrance and reconciliation, and a time for celebration. The good food, the free musical entertainment and the excitement will all be there. Join us to celebrate Little Italy and the Feast of San Gennaro."

Visit the official website of the San Gennaro Feast


click to enlarge

Processions
There are usually two parades, each featuring the Statue of San Gennaro. Each parade will begin on Mulberry Street between Canal and Bayard Streets (one block south of Canal Street), and will proceed north along Mulberry Street to East Houston Street, east along Houston for one block to Mott Street, south on Mott to Grand Street, west on Grand to Mulberry and south on Mulberry to Canal.

On the last Saturday in September the annual Grand Procession, starting at 2 p.m., with the statue of San Gennaro carried from its permanent home in the Most Precious Blood Church through the streets of Little Italy.





Last Sunday in September is The Official Feast Day

2 PM: Celebratory Mass in honour of San Gennaro.
3 PM: Religious Procession
Statue of San Gennaro carried through the Feast immediately after Celebratory Mass