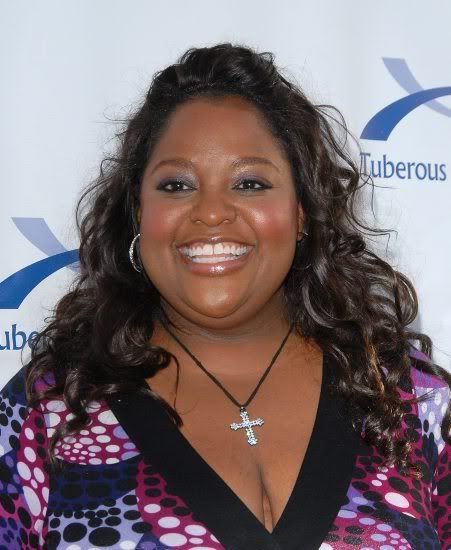 So the other new co-host on The View doesn't know if the world is flat...

Sherri Shepherd isn't getting off to the best start during her first week as an official "View" panelist. First she said she would walk around her child naked until he turned 8, and now she's wondering if the world is flat or not.




After declaring she didn't "believe in evolution, period," stupid Whoopi asked if Sherri if she thought the world was flat. If the bible says the world is flat, then it must be, right? Watch her try to wiggle out of giving an answer and start talking about "feeding her kids".

A classic for the ages. Watch the video.
Meanwhile, if the reports are true that Britney Spears' bodyguard claims Brit walks in front of her young sons naked, Sherri Shepherd doesn't see anything wrong with that.

Shepherd revealed on "The View" that her 2 1/2-year-old son sees her naked "all the time."

She says her son will say "Mommy! Booby!"

Asked how old her son would have to be for her to stop, Shepherd said "probably 8? Is that too old?" She was assured that, yes, that would be too old for her son to see her naked.

Where do they find these people?
Oh, dear. I just received a very distraught e-mail from my friend and The View fanatic, Sri, who had THIS to say about today's show:

Subject: Sherri Shepherd thinks the world is flat

I'm in shock. Just got done watching "The View." That show is going DOWN hill.

There was a conversation in Hot Topics about evolution. Sherri Shepherd doesn't believe in it.

Flat out does not believe in it. She started quoting the Bible.

As if that weren't bad enough, Whoopi (who was kinda in shock at hearing this), asked Sherri rhetorically, "Well, do you also think the world is flat?"

To which Sherri responded, "I don't know. I've never thought about it."

I think Barbara couldn't believe she said that. She was like, "What do you mean you don't know?" And Sherri confirmed that she DOES NOT KNOW. One of them asked her, "What will you say when your son asks you if the world is round or flat?" And Sherri said, "I guess we'll have to get to the library to look it up!"

Looks like Elisabeth is no longer the resident idiot on that show.

Whoa. This is not good. When Sri starts using all-caps to express his displeasure — usually reserved for Elisabeth — you know The View is in trouble with its core audience.