Steely Dan is Walter Becker and Donald
Fagen
. The band's peak of popularity was in the 70's, when it released six albums that blended together rock, funk, R&B, jazz and pop.
Their music is characterised by complex structures and harmonies, literate but sometimes obscure or ambiguous lyrics filled with dark sarcasm, and their adroit musicianship and studio perfectionism.
What the F does Steely Dan mean?
Being fans of Beat Generation lit,
Fagen
and Becker named the band for a dildo in William Burroughs' famous novel, "
Naked Lunch
"
The group toured from 1972 to 1974, but in 1975 became a purely studio-based act. They disbanded in 1981, but have since reunited. But we won't discuss that here, K?
Fagen
and Becker met at Bard College in 1967 and began playing in local groups. Fun fact: one of these short lived groups,
The Bad Rock Group
, included future comedy star Chevy Chase on the drums.
After
Fagen
graduated from Bard in '69, the two moved to Brooklyn and tried to peddle their tunes in the Brill Building in midtown.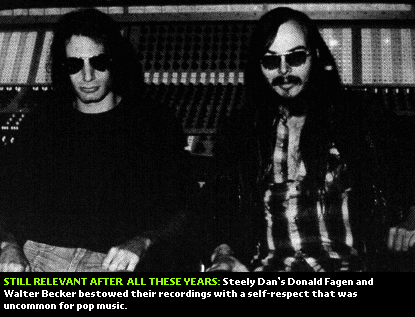 Kenny Vance from
Jay and the Americans
had a production office in the building and took an interest in their material that led to work on the soundtrack of the low-budget Richard Pryor movie: "
You've Got to Walk It Like You Talk It or You'll Lose That Beat"
(1971).
They made little significant headway until one of Vance's boys, Gary
Katz
, moved to Los Angeles to become a staff producer for ABC Records. He hired Becker and
Fagen
as staff songwriters and they flew to Los Angeles.
Katz
would produce all their 1970's albums and from the first album on they commenced a long and successful collaboration with engineer Roger Nichols, who has since worked on every Steely Dan album, including their solo projects.
Steely Dan's enigmatic, sardonically
humourous
and topical lyrics add to the appeal of the songs. Although Becker and
Fagen
might have at first owed a certain lyrical debt to Dylan, they fast developed their own distinct style and have since become one of the most accomplished and respected songwriting teams of their age.
These guys were studio lunatics and fellow studio
Nazis
admire their attention to
subtlety
and fidelity in their recordings. Very special attention was given to the individual sound of each instrument. The recording was done with the utmost attention to sonic detail, and mixed so that all the instruments are heard and none are given undue priority (a deft and accomplished use of the multi-tracking process).
For example, in the song "
Parker's Band
", two drum kits are used (a technique which was standard in the Big Band era), which gives the song an unexpected drive, without overpowering the sound; it is not even immediately apparent that there are two drum kits on the track.
Their albums are also notable for the characteristically 'warm' and 'dry' production sound, and the sparing use of echo and
reverb
— effects which were often heavily over-used on other rock recordings in the cocaine 70's.
Long known as passionate perfectionists, they often recorded take after painstaking take before selecting the player or performance that made the final cut on their albums.
Steely Dan are also famous for their use of chord sequences and harmonies that explore the area of musical tension between traditional pop music sounds and jazz.
To conventional rock listeners, this sometimes seemed to be
avant
-
garde
music. In particular, they are known for their use of the mu major chord, often simply known to rock musicians as the "Steely Dan chord". A mu major chord (signified by μ) is a somewhat unconventional name for an "add 2" or "add 9" chord. It is formed by adding a 2
nd
to a major triad; in other words, it is a chord constructed from the 1st, 2
nd
, 3rd and 5
th
degrees of the major scale. The reason they called it "mu major" is now forgotten, but the whole business of naming the chord was meant as a joke about the band's perceived self-importance.
Other staples of the Steely Dan "Chord Dictionary" include so-called
slash chords
, for example B/C or E/A. Slash chords formed from a bass note and a major chord based on a note a perfect fifth above the bass note, such as E/A, were commonly used, often as alternatives to the closely-related major 7
th
and major 9
th
chords.
Lyrically, their songs cover a wide range of topics, but in their basic approach Becker and
Fagen's
writing can be compared with the observational,
novelesque
style of Lou Reed, and with lyricists such as Langston Hughes, who specialises in creating fictional
personas
that narrate the experience.
The duo have said that in retrospect, most of their albums have a 'feel' of either Los Angeles or New York, the two main bases where Becker and
Fagen
lived and operated. Characters appear in their songs that evoke these cities. Themes of sex, drugs, and rock 'n roll appear, but never in a straightforward manner, neither encouraging or discouraging, and many, if not all, of their songs are coated with an ironic edge.
Some lyrics are notable for their unusual scansion patterns or the linguistic sound patterns of a verse. Scansion is the analysis of poetry's metrical and rhythmic patterns. A prime example of this is their 1972 hit "
Reelin

' In The Years
", which crams an unusually large number of words into each line, giving it a highly syncopated quality.
Other themes are also present, such as prejudice, aging, failure, poverty and middle-class
ennui
, but these are typically seen from an ironic and detached perspective. Many of their songs concern love, but none can be classed as straightforward love songs, since there is inevitably an ironic or disturbing twist in the lyrics.
One may think the song is about love on first inspection, however, upon deeper analysis the listener realizes that the real story is about rape, prostitution, incest, or some other socially unacceptable subject.
Steely Dan's lyrics contain subtle/coded references, unusual and sometimes original slang expressions, a wide variety of "word games" and intriguing lyrical choices and constructions of considerable depth.
The obscure and sometimes teasing lyrics have given rise to considerable efforts by fans to explain the "inner meaning" of certain songs. There are numerous film, television and literary references and allusions in their lyrics.
"Name-checking" is another Steely Dan lyrical device; references to real places and people abound in their songs; referring to
Annandale
(
Annandale
-on-Hudson, NY is the location of Bard),
theres
also numerous references to the the New York metro area, including
Gramercy
Park, The Strand bookstore and Dean &
DeLuca
.
Katy tried
I was halfway crucified
I was on the other side
Of no tomorrow
You walked in
And my life began again
Just when Id spent the last piaster
I could borrow
All night long
We would sing that stupid song
And every word we sang
I knew was true
Are you with me doctor

Wu


Are you really just a shadow
Of the man that I once knew
Are you crazy are you high
Or just an ordinary guy
Have you done all you can do
Are you with me doctor



Don't

seem right
Ive been strung out here all night
Ive been waiting for the taste
You said

you'd

bring to me
Biscayne bay
Where the

Cuban

gentlemen sleep all day
I went searching for the song
You used to sing to me
Katy lies
You could see it in her eyes
But imagine my surprise
When I saw you

Are you with me doctor

Wu


Are you really just a shadow
Of the man that I once knew
She is lovely yes shes sly
And

you re

an ordinary guy
Has she finally got to you
Can you hear me doctor