Before
Barney Miller
, before
Hill Street Blues
, before
Law & Order
, before all these
CSI
and
SVU
shows, there was
Emergency!

Emergency!
aired from 1972 -1977 on NBC and centered around the
fictitious
"Station 51" and "Rampart Emergency Hospital."
Where Webb's
Dragnet
typically followed a pair of detectives investigating a single crime or a series of related crimes,
Emergency!
typically followed the firefighters and paramedics of Station 51, and the Emergency Room staff of Rampart Hospital, through a series of incidents, some of which advance one or more overall plot threads that serve to unify the episode, and others of which are completely unrelated.
Usually, the very first incident (or occasionally its aftermath) will begin the overall plot. Most episodes included at least one incident included strictly for comic relief (such as a pet rabbit stuck in a tuba, or Dr. Early accidentally lodging a stethoscope earpiece in his ear, or a woman glued to her own toilet seat with fast-drying epoxy paint, or Gage forcibly opening toy handcuffs (but not before giving their owners some good-natured teasing by proposing to use their K12 circular power saw tool), and the episodes nearly always concluded with a spectacular fire or rescue taking up the entire final act (with the overall plot usually concluding either just before, during, or after this final incident).
The show begins with the pilot movie showing the paramedic program in its infancy, before legislation is in effect to allow the paramedics to function independently. It follows the characters of paramedics John Gage and Roy
DeSoto
to the point when they are promoted to captain. Most episodes were split between rescue scenes in "the field" and follow-up treatment at the hospital afterward. Like
CHiPs
, it was mostly filmed in the Los Angeles area.
Many episodes dealt with actual events in an attempt to educate, as well as entertain, the public. The format of the show (dividing the episodes between rescue scenes and hospital scenes) was due to the expense of filming rescue scenes, while the hospital scenes were relatively inexpensive -- so by splitting the episode between the hospital and the field, the production company saved money.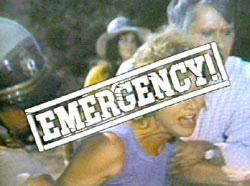 The show starred Robert Fuller as Dr. Kelly
Brackett
, Julie London as Dixie McCall, Bobby
Troup
as Dr. Joe Early, Kevin
Tighe
as Roy
DeSoto
, and Randolph
Mantooth
as John Gage. The director/producer of the show was Jack Webb and the executive producer was Robert
Cinader
.
I'll always remember it's bleeding 70's
technicolours
; those crimson red fire engines and the royal blue police uniforms... there was a lot of incest around this series and its spin offs and inspirations... The syndicated episodes were apparently retitled
Emergency One!
for some reason;
Emergency!
debuted as a
midseason
replacement on January 15, 1972, on NBC, and ran until September 3, 1977. It was produced and created by Jack Webb and Robert
Cinader
, both of whom were also responsible for the police drama
Adam-12
. The shows were similar in that they featured dedicated civil servants handling two or three varied and unrelated incidents during a typical shift. The show returned as a series of six "
Movie of the Week
" specials between late 1977 and the spring of 1979. Three of the TV movies have the two paramedic characters traveling to San Francisco (twice) and Seattle for EMS conventions. While in both cities they end up assisting the local agencies (San Francisco's Rescue-2 and Seattle's Medic-One) with several rescues. The others were "
Steel Inferno
" (a high rise blaze), "
Survival on Charter #220
" (two airplanes crash over a residential neighbourhood – at the time it was reportedly the most expensive TV-movie ever made) and a finale in which the firefighter/ paramedics are promoted to captain.
Emergency!
spun-off an animated version called
Emergency +4
which ran from 1973 to 1976, and featured four teenagers who participated in adventures with the firefighter/ paramedics.
Emergency!
itself was considered a spin-off of an earlier Jack Webb series,
Adam-12.
Ummm
what?
Characters from
Emergency!
and
Adam-12
crossover on two occasions. The police officers appeared in the pilot episode of Emergency!, and the firefighter/paramedics appeared in the Adam-12 episode titled "Lost and Found". Strangely, in a different episode of Emergency!, there was a subplot in which the crew of Station 51 watched Adam-12 as a television show. Further complicating things, is the fact that the Los Angeles County Fire Department does not serve the City of Los Angeles. This makes the crossover somewhat factually dubious, which is not typical of the ultra-realistic Jack Webb productions.
Johnny and Roy also appeared in the tenth episode of
Sierra
, another Webb/
Cinadar
production centered around a pair of National Park Service rangers, which appeared for only one season in 1974. In that episode, The Urban Ranger, the two paramedics participate in mountain rescue training and get involved in many of the episode's subplots. Following recurring themes from
Emergency!,
Johnny continues to fail in his attempts to get a date, while Roy briefly considers changing careers to become a park ranger.
Universal has released the first 3 seasons of
Emergency!
on DVD in Region 1 for the very first time. It is unknown if the remaining 4 seasons will be released at some point.