Owwww, bitch!

So NJ has awarded naming rights to Continental Airlines Arena to the clothing maker Izod. The building will be called the Izod Center. Yeah well, to me, it'll always be the Brendan Byrne Arena.

Jay Z's Rocawear and The Khyms' Southpole had also entered bids to slap their names on the arena.

Continental opted to take its name off the 26-year-old building now that the New Jersey Devils are leaving for their new home in Newark.




OK, so this leads me to my next question: what is up with Izod and Lacoste? Is it the same thing? Are they interchangeable aliases for the same company? Is this some sort of textile incest?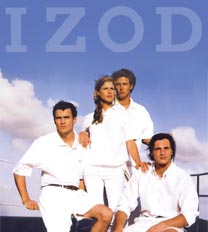 Diehard NJ Devils fans

Secondly, can someone tell me when Izod or Lacoste or whateverthefuck it is woke up and became this high-end, expensive brand?! It's a fucking polo shirt with an alligator on it; but about 5 or 6 years ago, suddenly, they became this reborn force of fashion selling $70 polo shirts. When I was a kid I think I had about 3 dozen of these shirts covered in finger paint and jelly donut sugar so they definitely weren't $70 a pop back then. HOLLA!



no comment