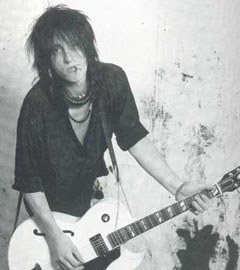 I can't remember which GnR video it was when Axl held up that sign that said "Where's Izzy?". I remember they were on this giant roof at night and there was a helicopter flying around and I think your boy Shannon Hoon was up there, too. Maybe it was one of their ten different videos for "Don't Cry"? Someone help me out.

Anyway, GnR was easily one of my first favourite bands but thats not why I'm here. I'm here to talk about motherfuckin' Izzy Stradlin'.

Izzy wrote the music for nearly every GnR classic; he also wrote the music and the lyrics for quite a few on his own.

Izzy wrote one of their biggest singles "Patience" as well as the hysterical "Used To Love Her". I'm a big fan of "Use Your Illusion II" as well and its mainly because of Izzy; "14 Years" and "Pretty Tied Up" are two of my most favourite GnR songs ever duuuuude, and they're both written by Mr. Jeffrey Dean Isbell.




Izzy and Axl went to High School together in Indiana. After graduation Stradlin decided that Indiana wasn't enough if he wanted to pursue a musical career. He packed his drum kit into his car and headed for L.A.

He tried his luck as drummer with a couple of bands, then switched to bass for a short while. After a few years in Los Angeles, Stradlin was joined by Axl, and they ended up playing together in a band they called Rose which was the first band Stradlin played guitar in.

In 1984, Izzy briefly left to join a well-known Sunset Strip band called London (whose revolving membership included Nikki Sixx of Mötley Crüe as well as stupid Blackie Lawless from W.A.S.P.)However, Izzy returned to playing with Axl by the end of the year.

Rose became Hollywood Rose, and then broke up before re-uniting and morphing into Guns N' Roses. The early history of the band is confusing, but in June of 1985 the classic lineup of Guns N' Roses embarked on their first tour, the infamous "Hell Tour" that took them up along the US west coast to Seattle, hometown of bass guitar player Duff McKagan.

Around that time, Stradlin adopted his gypsy look and started playing classic looking guitars (hollowbodies and semi-hollowbodies, as well as telecasters), both as tributes to his idol, Keith Richards.

When the "Appetite for Destruction" tour ended, Stradlin, along with Slash, Duff and Steven, ratcheted up the heavy drinking and drug use that had become a trademark of the band.

Unlike the others, Stradlin finally managed to overcome the temptation of continuous intoxication and cleaned up. He has said that touring with Aerosmith in 1988 was a big source of inspiration:


"It was like, thank God we got to meet some people that weren't fucked up! I'd go out to watch and they'd sound fucking amazing! I thought, we're gonna have to really pull this shit together to keep up, 'cause they were right, you know? And with us, even then, it was like the music was already taking a back seat to all the other shit..."
What finally made Izzy take the decision to give up drugs was the infamous incident on board an airplane in which he was arrested for pissing in the aisle. After that incident, Stradlin was subjected to random urine tests for drugs.
Stradlin was often seen as the silent one in the "most dangerous band in the world", and this became a lot more noticeable during the 1991 "Use Your Illusion" tour.
The Use Your Illusion Tour ran from May '91 through July '93. It was not only the band's longest tour, but one of the longest concert tours in rock history, consisting of 192 shows in 27 countries. It was also a source of much infamy for the band, due to riots, late show starts, cancelations and outspoken rants and dramatic hi-jinks by Axl. The conduct of the band generated a storm of negative press, most notably from Spin, Kerrang!, Circus, and Hit Parader.
By this time, Stradlin wasn't traveling with the band anymore. He, his Swedish girlfriend Annica Kreuter, who he later married in 2000, and his dog had a private bus that took them from show to show. He said he did this as an effort to remaining sober while being around people still drinking and using drugs.
Stradlin has also mentioned that after Steven Adler's firing, he felt that Matt Sorum's sound "didn't work" for the band. He felt that Steven was essential to the band's sound. Also, it has been noted by Axl and Slash that Izzy was simply not having fun with the band anymore, and no longer enjoyed it.
On November 7th, 1991 during a short break between the U.K. and U.S. legs of the tour, Stradlin quit. I believe his last show with the band was August 31, 1991 at Wembley Stadium in London. Not a bad last gig.
After Guns N' Roses he went back to Indiana and started recording the songs that ended up on his first solo album with his band the Ju Ju Hounds, Izzy Stradlin and the Ju Ju Hounds, released in 1992. The music was more laid back and simpler than Use Your Illusion I and II They received fair reviews and went out on a world tour.
In 1993 Stradlin's replacement in GN'R, Gilby Clarke, hurt his wrist in a motorcycle accident and the band's upcoming European tour was in jeopardy. A quick solution was needed, and Stradlin was able to fill the gap. However, after his tour obligations were met, he promptly returned to Indiana to take time away from the music industry. Stradlin was promised to receive royalties he felt he was owed by the band in return for this.
Since leaving the band in 1991, Stradlin has released seven solo albums. Slash and Duff asked him to join Velvet Revolver when it was in its formative stage but Izzy declined due to his unwillingness to work with a lead singer, and his aversion to the life on the road. In 2004, Izzy Stradlin and Duff McKagan appeared on the Mark Lanegan album Bubblegum.
As with fellow former member of Guns N' Roses, Matt Sorum, it appears that Stradlin and Axl Rose have repaired their fractured friendship, as it was reported that Rose attended a birthday party held for Stradlin in New York back in April.
In May of '06 Izzy appeared on stage with GnR in California and played "Nightrain", "Think About You" and "Patience". Stradlin also performed six songs with GnR at the Download Festival the following month in the UK.
It has been wildly rumoured that Izzy has been in contact with the four other original GnR members, and was approached by Steven Adler about a possible reunion tour, which Adler said would be "the biggest reunion in history". Izzy is apparently in favour of the idea.