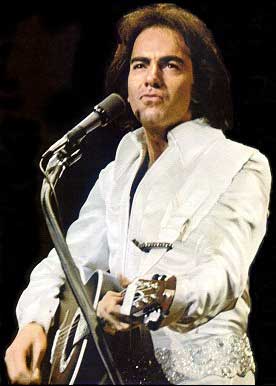 Neil Diamond has alas revealed that John F. Kennedy's daughter Caroline was the inspiration for his worldwide shit "Sweet Caroline" and now one of the world's most annoying tunes has just gotten really creepy.

Diamond recently told Caroline Kennedy Schlossberg herself when he performed at her 50th birthday last week. It was the first time he'd ever spoken about who the tune was about.

Speaking to the Associated Press, Neil said:
"I've never discussed it with anybody before - intentionally. I thought maybe I would tell it to Caroline when I met her someday. It was a Number One record and probably is the biggest, most important song of my career, and I have to thank her for the inspiration. I'm happy to have gotten it off my chest and to have expressed it to Caroline. I thought she might be embarrassed, but she seemed to be struck by it and really, really happy."
Neil told of how he saw a photo of the young Kennedy in a news magazine, dressed in riding gear and was inspired by the "innocent, wonderful" picture.
He wrote the song several years later in a Memphis hotel room.
Umm... yeah.

The song recently re-entered the singles charts thanks to being played at Red Sox games. Diamond also says he is working on what will be his "best record ever" with legendary producer Rick Rubin.
"Oh, one, touching one, reaching out
Touching me, touching you
Oh, sweet Caroline
Good times never seem so good
Oh I've been inclined to believe it never would"
Yes, Neil, it will never be as good as that time you were alone a Memphis Motel 6 fantasizing about JFK's daughter.
"Daddy, does this mean we'll never know who "You're So Vain" is about?"