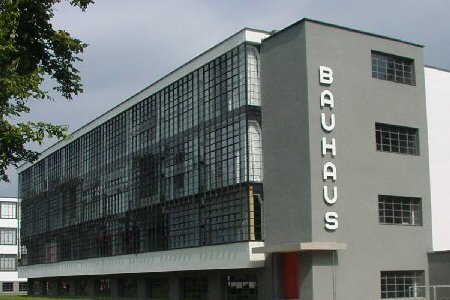 Bauhaus formed in Northampton in 1978 taking their name from the German Bauhaus art movement, originally going by the name Bauhaus 1919.

Bauhaus first broke up in 1983.

Prior to the recording of their fourth album Burning from the Inside Peter Murphy came down with pneumonia, which prevented him from contributing much to the album. So Daniel Ash and David J took the reins and became the driving forces behind the record, and even did lead vocals on a few tracks.

The album's lead single, "She's in Parties", reached # 26 on the charts and earned Bauhaus their third and final Top of the Pops appearance.

Bauhaus then embarked on a tour for the album. David J recalled that the night before they were supposed to perform two shows at Hammersmith Palais in London the group decided to disband. The band played their farewell show on 5 July 1983 at the Hammersmith Palais; dedicated fans had been warned by the band's crew not to miss the show without telling them it was the last. After a long encore consisting of some of their early songs, David J left the stage with the words "rest in peace".

Burning from the Inside was released a week later. The album received largely positive reviews and reached #13 on the charts. Bauhaus released the single "Sanity Assassin" in limited quantities as a farewell gift for those who joined the group's fanclub.




After Bauhaus broke up, all members of the band did various solo work.

Peter Murphy worked briefly with bassist Mick Karn from the band Japan in the band Dali's Car before going solo. Peter Murphy's Deep remains one of my favourite albums of all time.



Daniel Ash put out solo albums and released music under the name Tones on Tail with Kevin Haskins and Bauhaus roadie Glen Campling. Good luck finding original Tones on Tail shit. In concert, they wore all-white as a reaction to Bauhaus's all-black look. Cheese. In 1998, Beggars Banquet Records released Everything!, an appropriately named two-CD set of every elusive Tones on Tail track, fully remastered, plus a radio interview with Ash and Campling. Beggars probably did this because the bootleggers were making all the money. HOLLA.

David J has released multiple solo albums and has collaborated with several other musicians such as the Jazz Butcher band, as well as with comics writer/spoken-word artist Alan Moore.

Kevin Haskins has been making electronic music for video games, and also has been producing musical artists such as Gary Numan.

Daniel Ash and the Haskins brothers formed Love and Rockets in 1985. They achieved a U.S. hit four years later with "So Alive". The band broke up after seven albums in 1999. They got the name from the comic book "Love & Rockets" by Jaime and Gilbert Hernandez.

Yadda, yadda, yadda in 1998, Bauhaus suddenly reunited for the "Resurrection Tour". A live album & video recorded during the tour, Gotham, was released later the same year. I saw them at the Hammerstein Ballroom on this tour and they were swell. Quite swell, in fact. It was very interesting to see how many new fans they'd made since breaking up in 1983 and this was still before the full dawn of Hot Topic and the like.

Bauhaus vanished and reunited again on a more permanent basis in 2005 with plans to record another record.




First Bauhaus played a reunion gig at Coachella in April of of '05 and then embarked on a full tour beginning in North America and Mexico and ending in Europe in February '06. And in May of '06 the band toured with Nine Inch Nails for a few weeks.

SO ANYWAY, now Bauhaus is bowing out once again, but not before releasing a new record.

Bauhaus is eyeing a March 4, 2008 release for "Going Away White," their first studio album since 1983's Burning from the Inside.

However, the band is saying after the release of this record there will be no further activity. End transmission.

"We were getting along really well, but there was an incident that occurred," drummer Kevin Haskins told Billboard, declining to elaborate further. "Some of us just felt that we didn't want to carry on as a working unit."
Oh, brother.
"Now, there's a little bit of an empty feeling because we can't tour with it," Haskins admits. "All the same, it's something we're very proud of, and we feel a lot of people will be interested to hear it."