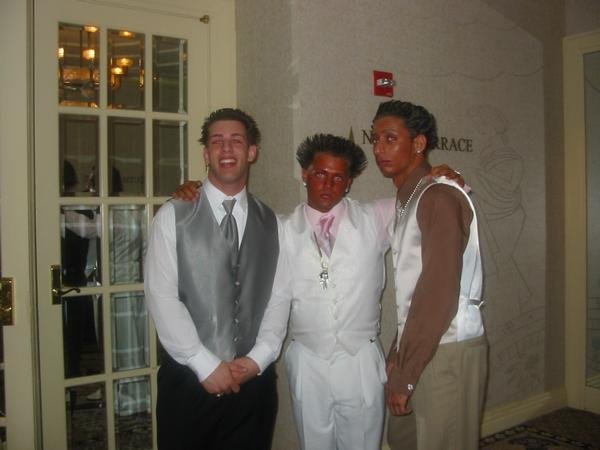 Tackling the true evolution of "the guido" is really quite a task, bordering on insurmountable. It's probably a task better fit for an eager archaeologist rather than a blogger.

I think its a great idea and I'd love to read it so I wished someone else had done it first but alas they have not. Being an original thinker / genius isn't easy, in fact at times it can be quite lonely and difficult. These ideas, they come to me, and sometimes I do not know what to do with them. Like Bob said "I got a head full of ideas that are driving me insane!"

"The Evolution Of The Guido", I thought, "Perfect!".

I figured I'd tirelessly track "the guido" on stage and screen since the dawn of time. When did the "guido" become a cartoon, a parody of its own self.

I'd pose the tough question: Who was the first guido? But where would I draw the line?

For instance, I wouldn't ever look to The Godfather movies for guidos. Gangsters are not guidos and guidos are not gangsters. This will come up again later so, pay attention.

The first character who comes to my head, quite honestly, is Arthur Herbert Fonzarelli or "The Fonz" as played by Henry Winkler on Happy Days.




The Fonzie character was Italian, he had slicked back hair, he was a mechanic, he wore a leather jacket, he made famous the animated catchphrases: "Whoa!", and "Aaay!" while snapping his fingers, and forming a thrust-forward double thumbs up. Fonzie was a fucking cheeseball; a cartoon.

And the fact that Winker is not Italian but Jewish is absolutely perfect for my theory, for these days most "guidos" are not Italian. I'd say maybe one out of every 10 stereotypical "guidos" is of Italian-American descent. The rest are Albanian, Russian, Persian, and whatever else.

After Fonzie I'd say the torch was passed to the Vinnie Barbarino character from Welcome Back, Kotter who John Travolta would somewhat reprise and perfect in Saturday Night Fever as the legendary Tony Manero. And I'd say Tony Manero was the last of the true guidos.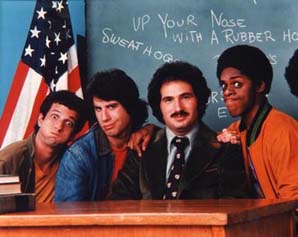 Vinnie Barbarino with The Sweathogs



Tony Manero

Saturday Night Fever put a period on the 70's disco era, it also laid out the blueprint for the true late 70's into 1980's guido. This was when guidos were still actually Italian, unlike today. Then it was the wife beater, gold chains, chest hair, pompadours, Camaros, etc. Some had leather jackets, unbuttoned dress shirts with white tank underneath, and dress suits. Oh, and they all still lived with their parents. That's key. This is when being guido still meant something, like being punk, it stood for something, it had depth and meaning and rules.

Sweat and tracksuits would come later when the guidos started emulating their mafia heroes. I've never met an actual gangster I'd consider a guido. Gangsters are not guidos and guidos are not gangsters, though they very much wish they were.

I guess the evolution of the guido is rather short for we're just about ready for the modern day guido. The tracksuits, the white sneakers, the headbands, the awful lobster tanning salon tan, the wolverine hair, etc. The definitions I found on Wikipedia and Urban Dictionary were pretty spot on.

Nowadays, just like punk, being a "guido" is little more than a look, a style. You don't have to be Italian, that's for sure.

Whats funny, too, is that the guido is such a New York/NJ thing. I'll even extend it to the entire Northeastern United States but after that the guidos are ghosts. In the South they have rednecks, they don't have guidos.

The rest of the country knows no guidos.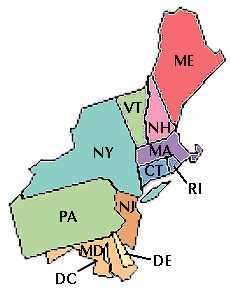 I never realised this phenomenon until a good friend of mine from Atlanta moved to Brooklyn. He had never seen a guido before! We tried to tell him about them but he just didn't understand.

So we took him to a movie at the UA in Sheepshead Bay and the Staten Island Mall and schooled him to some good, old fashioned Albanian guidos. Finding a real, bona fide Italian guido is next to impossible these days. They've gone underground.

My friend from Atlanta found it fascinating to see the guidos in the natural habitat, shopping at the mall and talking on their cellphones during the movie. Suddenly Andrew Dice Clay (another example of a non-Italian guido) made so much more sense to him. It all came together and my man was hooked on the guido culture!



Born Andrew Clay Silverstein

Today's guido is quite young and gets his entire look from Growing Up Gotti on A&E. Victoria Gotti, the daughter of late boss of bosses, and her three sons with her ex-husband Carmine Agnello: Carmine, John and Frank are their unequaled icons.

Carmine, John and Frank come together like a pop-culture Voltron to form a three headed modern day Fonzarelli-Barbarino-Manero, the blueprint for the modern day double parked outside Pazzo's guido.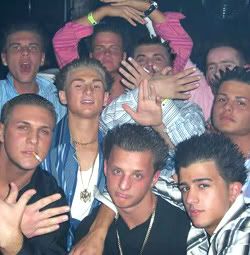 Related: Joey Porsche®, More Joey Porsche®