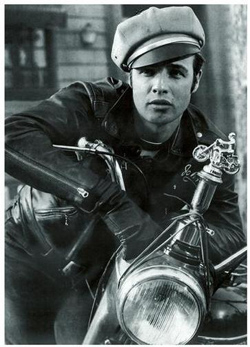 I wanted a motorcycle for a solid minute or two. It was before I bought my old truck. I thought maybe I'd get an old BMW from WW2. One of those stripped down, mean looking ones that are little more than a bicycle with a motor.

I looked at a gorgeous old BMW R60/2 and a Triumph 650 Bonneville and they were simply beautiful machines. I had the money in my hand...




And then I decided I was too much of a pussy to ride a motorcycle. I also thought about not being able to really listen to the radio or eat a bagel while driving and the idea fell apart as quickly as it came together. There's nothing cozy about a riding a motorcycle. I had to call my old friend Ronnie Raygun with my tail betwixt my legs and tell him to cancel our crash course driving lesson.

But for a spell I was really amped. I figured I'd ride around Woodstock, maybe head towards Bearsville. I wanted to fall off the bike blinded by the sun and maybe have my girl drive me 50 miles to a doctor in Middletown. Then I'd rent a house in Saugerties, paint it pink and record some tunes in the basement. I had it all figured out.
So for those who are brave enough to ride and for those who sacrifice a good drive with the radio blasting, the windows down and a coffee on the dashboard, why wouldn't you want to ride something bad ass like a Harley or a Triumph or an old BMW?

Why the FUCK would you ride one of these neon green or hot yellow rice rockets? They look like video game bikes.
I don't even care about 'Made in America' or whatever but just the look! Why would you want a sporty samurai warrior hyper-bike when you could ride one of these classic, evil and timeless gasoline guzzling suicide machines?