A family relocating means 10 year old Wattie the pit bull needs a new home.
Wattie was named after the singer from The Exploited. That's a plus five right there.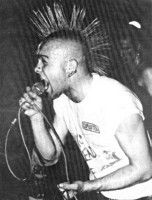 The family is distraught and wants to find their beloved Wattie a nice, warm home.
Wattie is sweet and even tempered.
She comes from a party house of sorts so she is used to being around a lot of people and a lot of noise. Which is great!
Wattie has also lived with other dogs as well as cats but apparently isn't all that fond of puppies though…. Probably just jealous!
Wattie did have a hysterectomy about 6 months ago but she has recovered just fine and has no health problems.
If you're interested in adopting this old wombat, please get in touch ASAP. Unfortunately this is a serious and dire situation.
Please Contact: Joe at 917-863-3288 or
Fett1971@msn.com
SPREAD THE WORD !!!