Larry Norman has died.

Even though Norman is widely considered the "father of christian rock" he's also had a peculiar influence on many secular artists. Everyone from Black Francis to Van Morrison has cited Norman as an influence.

Larry was the dude who inspired Dylan to go gospel for a few years there in the early 80's (Slow Train Coming, Saved and Shot of Love).

Norman's relationship with the wider christian church, and with the contemporary christian music industry, has been contentious for many years.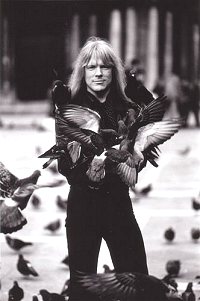 A widespread ban on Norman's music, still largely in effect today, existed in christian stores. This ban was due not only to Norman's social positions, but his preferred company as well.

Norman had been known to say,

"the churches

weren

't going to accept me looking like a street person with long hair and faded jeans. They did not like the music I was recording. And I had no desire to preach the gospel to the converted."
In 1969, Norman recorded his first solo rock album for Capitol. Speaking to the magazine
Contemporary Musicians
, Norman later expressed his intentions and feelings about the record:
"I wanted to push aside the traditional gospel quartet music, break down the church doors and let the hippies and the prostitutes and other unwashed rabble into the sanctuary...I wanted to talk about feeding the poor, going into the world....I felt that most of the modern music was anemic and needed a transfusion."
The day before he died, Norman posted this prophetic message on his website:
"I feel like a prize in a box of cracker jacks with God's hand reaching down to pick me up. I have been under medical care for months. My wounds are getting bigger. I have trouble breathing. I am ready to fly home. I won't be here much longer. I can't do anything about it. My heart is too weak. I want to say goodbye to everyone. In the past you have generously supported me with prayer and finance and we will probably still need financial help. My plan is to be buried in a simple pine box with some flowers inside. I'd like to push back the darkness with my bravest effort. There will be funeral information posted on my website, in case some of you want to attend. We are not sure of the date when I will die. Goodbye, farewell, we will meet again."
Norman died at home in Salem, Oregon with family and friends present.
He was 61.