view from above: AGHHHHHH!



Brooklyn's Grand Army Plaza is the main entrance to Prospect Park. It's been called New York City's answer to the famous Arc de Triomphe in Paris. However, the space as it is used today is difficult to walk around, drive around, and is generally not very user-friendly. Basically, it sucks.

Americans, and more specifically New Yorkers, don't really "get" roundabouts and rotaries, that's for the Brits and Euros. Euros love a good rotary. Americans love "The Grid". We've been spoiled.

So the Design Trust for Public Space (aka a bunch of dudes who look like Moby) are launching a new project to redesign Grand Army Plaza. saying its our fair city's greatest unrealised asset. Relax, but OK.




Home to powerful architecture, the Soldiers' and Sailors' Arch, the elegant Bailey Fountain, the entrance to Frederick Law Olmsted's greatest park, and a major transit hub, the sum of these parts is today emphatically less than the whole.

Currently an underdeveloped public amenity, the Design Trust thinks a redesign of Brooklyn's Grand Army Plaza will invigorate surrounding communities, just as the re-conception of Manhattan's High Line set off an explosion of activity in West Chelsea.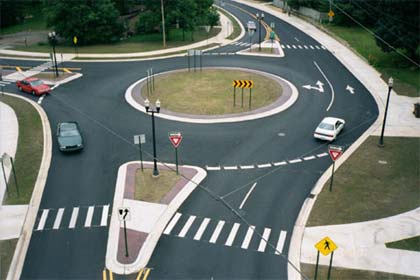 To catalyze Grand Army Plaza's rebirth, the Design Trust for Public Space is launching an international ideas competition, "Reinventing Grand Army Plaza," to generate new visions for every aspect of the plaza's design. Oh boy, here we go.




Here's my idea: Leave the fucking thing where it is and build a grid around it with corners, streets, right angles and some stop lights. No more roundabouts and rotaries. I drove around that fucking Arc de Triomphe for two hours one night trying to make a left turn like Clark W. Griswold at Big Ben when all I wanted to do was go visit Justin Borucki and maybe smoke a J with Brian Ritchie from the Femmes.