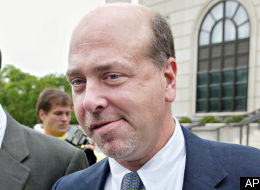 Today the FBI and US Marshals said they aren't even going to bother dredging the river because no one believes Sam Israel actually took the 156-foot plunge saying Israel was "a con artist, and this could be his last, greatest con."

Israel was out on bail, and had been due to surrender to Fort Devens federal prison in Ayer, Massachusetts by 2 p.m. Monday. That morning, he said goodbye to his girlfriend at his Westchester home. He told her he was "going to prison" like he was going to the store for a pack of smokes.

The former CEO of the shamed & defunct hedge-fund firm Bayou Management LLC was facing 20 years in prison for defrauding his investors of hundreds of millions dollars.

Israel, the architect of one of Wall Street's highest profile scams, who also has a history of depression, an addiction to painkillers and wears a pacemaker, is believed to have stashed money around the globe and may have bought a phony passport after surrendering his own in 2005.




The 48-year-old Israel, a scion of a prominent New Orleans family, had scrawled "Suicide is Painless" with his finger in pollen dust on the hood of his modest 2006 GMC Envoy. "Suicide is Painless" is the title to the theme song from M*A*S*H. Gross.

The words were surrounded by pine needles stuck to the hood suggesting that his Dear John was written someplace other than on the bridge. There are more than a dozen pine trees along Israel's driveway, but none anywhere near the Bear Mountain bridge which is about 40 miles north of New York City and connects Westchester and Orange County.

Israel's Bayou Management LLC was a hedge fund in the suburbs of Connecticut, the home of many huge hedge funds. Israel was not broadly known on Wall Street but he and his family were well known among active traders and well-connected. Israel was a day trader with a reputation for making money.

This is just the latest chapter in a scandal that rocked the investment world in 2005 costing investors nearly $450m.



At the end of a long private road leading to a circular drive with two heavy urns positioned to prevent access stands Israel's 1920's-era stone mansion in Mount Kisco, which he rented for $32,000 a month from Donald Trump.