3x3 artist's park

Artist's Park is a site specific project by Scot Kaplan. Most likely the smallest park in the world (3x3') has opened for visitors on 24th street between 10 and 11th avenues. "This one square yard of green space is a place to put your feet in the grass as a respite from the surrounding tumult."


From Curbed: For those who can't get out of town for the long weekend but crave that city escape, the greenpatch—"most likely the smallest park in the world"—is on West 24th Street between Tenth and Eleventh Avenues. Enjoy!

(click the photo to enlarge and read like a human being)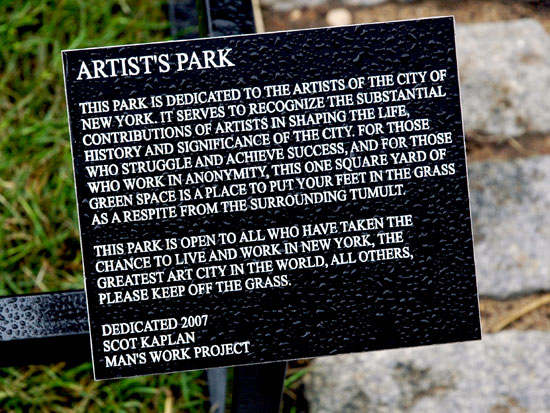 Can a homeless person (a.k.a. a former artist) sleep there at night?

We can never have too much park - or too many artists - and an "artist's park" sounds like a good thing to me, even if it's smaller than a nightstand. I came upon this piece by Scot Kaplan on the south side of West 24 Street while gallery hopping last weekend.

Maybe it's also some kind of homage to the Beuys basalt pieces two blocks south on 22 Street. The sod looks like it just got there, but I did spot a small piece of cellophane and one bird feather lying on the grass.




The critics love the park! New York Post! United Press!

The funny sad thing is, a few years ago I was apartment hunting for a new flat with some sort of yard for my dog. A Cracker Jack box real estate agent showed me a place in Dyker Heights. She said it had a yard. "OK", I said.

After she showed me the house, which was decorated with enough Venetian plaster to choke a small villa, she lead me outside. There was a paved driveway, a paved backyard and a garage. I didn't see the "yard" mentioned in listing. "Hmmmm", I remained silent. Then she pointed to a small 2x5 strip of grass betwixt the next door neighbours fence and the garage. It was like a landing strip for flying squirrels.

She said "And this is the yard". I said "Oh my. That's wonderful. Thank you" and I left.








(above) artists rendering