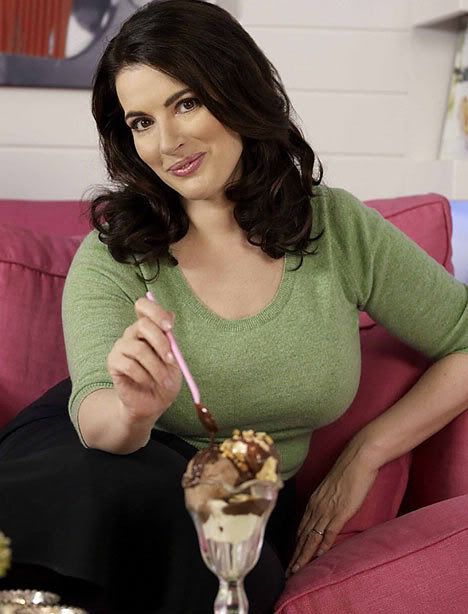 From Americana: The Journal of American Popular Culture (1900-present), Fall 2007, Volume 6, Issue 2 by Richard M. Magee

Many of the food icons that capture our attention appear at first taste to fall easily into two opposing kitchens: food Puritanism and food pornography. These two terms, though, are much more complex than they might indicate, and, when we consider them carefully, the terms collapse into each other as they are propelled by the same sets of cultural anxieties and nutritional superstitions. On the one hand, food Puritanism can be represented by a wide variety of cultural markers ranging from Morgan Spurlock's self-flagellating documentary Supersize Me to the latest scientifically-based, strictly tested diet book. Food pornography, the obvious counterpoint to the Puritanical trend, takes the form of glossily lush photographs of voluptuous and sinfully rich desserts, or of fantasy recipe and lifestyle images that, in the words of Molly O'Neill, are "so removed from real life that they cannot be used except as vicarious experience" (39). Martha Stewart, with her faux-Wasp name and carefully cultivated image as doyenne of New England über-domesticity, seems to be the perfect candidate for the voice of food Puritanism. Her past legal troubles and incarceration even reinforce this notion: her much-discussed legally imposed ankle bracelet became the scarlet letter whose ultimate significance became unfettered from its legal meanings.




Standing at the other side of the kitchen divide, apparently willing to wear the apron of food pornographer, is the saucy Brit Nigella Lawson, who once called her show "gastroporn" (Hirschberg). Lawson's interest in eating the food she cooks competes with her joy in cooking it, and she seems to derive more sensual pleasure out of the taste of good food than any famous cooking figure since Julia Child. However, despite the apparently obvious dichotomy separating Stewart and Lawson, the categories will not stand. By carefully reading the images that each author creates to construct a personal mythology of food and domestic labor, we can see that Stewart's Puritanism becomes a sort of pornographic and obsessive fantasy that has as little to do with the real pleasures of eating as the other pornography has to do with the real pleasures of sex, and that Lawson's highly eroticized postures tend to break down the barriers between sexual and gustatory pleasures.




As Steve Jones and Ben Taylor have pointed out, much of the scholarship done on food up to this point has focused on sociological or cultural analyses of food cultures, that is, on the food itself, and relatively little on the rhetoric of food (171). Nevertheless, the anthropological approach does provide ample background to the study of food writing, beginning, where much food analysis does, with Roland Barthes's Mythologies. Barthes's approach is particularly useful when considering the cookbooks that Stewart and Lawson have written based on their carefully constructed respective myths. Barthes points out that ornamental cookery is "supported by wholly mythical economics" (79), and, indeed, the economics of the two writers, Stewart in particular, are based more on a fantasy unapproachable by most American readers.

You can read the rest of the essay here