Everyone knows "ER" as the never fucking ending long running Emmy-winning series on NBC; created by Michael Crichton. It takes place at "County General Hospital in Cook County, Chicago, Illinois".

However, not many people remember the original show called "E/R".


The original "E/R" was a sitcom that aired on CBS from '84 to '85; it only lasted one season. It was developed from a play by the same name. This show was set at the fictitious "Clark Street Hospital", also in Chicago. Hmmmmm.

The show starred Elliott Gould as emergency room doctor Howard Sheinfeld. His colleague Eve Sheridan was played by Mary McDonnell... We'll talk about her in a minute.

The E/R cast also included Conchata Ferrell, Seinfeld's Jason Alexander, Lynne Moody, Bruce A. Young (one of the writers of the original play), and George Clooney! This was Clooney's first steady TV role. Years later he'd become a star from his role in the other ER. Confused yet?


Clooney wasn't the only E/R alum who'd appear on the second ER; Mary McDonnell also appeared on the new ER years later!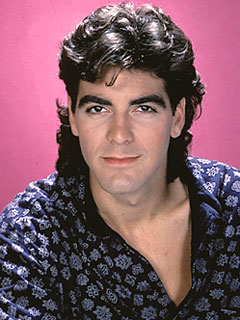 The show itself was perhaps most noted for its catchy theme song
"I've got a real emergency!"
and for the Filipino-American secretary's (played by Shuko Akune) manner of stating her catchphrase,
"Stay back of the white line!".
Akune was reprising her role from the original Chicago production of the play.
Coincidence? I think not.
Seems that nearly all evidence of this original E/R has been wiped from the world wide web. I had to kill four children just to find that logo, never mind screen shots from the episodes!
How come nobody has re-released E/R on DVD? They've repackaged and reissued every other goddamn tv series ever made, who not E/R starring my boy Elliott Gould and George Clooney with a mullet!
From TV.com: "Chicago's Clark Street Hospital was the setting for this comedy about the staff and patients of the hospital's emergency room. Howard Sheinfeld (Elliott Gould) was the sarcastic, talkative doctor who oversaw most of the emergency room treatment. An ear-nose-and-throat specialist, he moonlighted at the hospital doing 48-hour shifts to help him keep up with alimony payments to two ex-wives.

Dr. Eve Sheridan (Marcia Strassman in the pilot than played by (Mary McDonnell), his no-nonsense boss at the hospital, wished he would take things a little more seriously and not work such long shifts. Harold Stickley (Jason Alexander) was the hospital administrator, George Clooney as Mark "Ace" Kolmar, the med tech, Joan Thor (Conchata Ferrell), was the head nurse and Lynne Moody as Nurse Julie Williams.The series was based off of a popular stage production of the time.

It featured the the hit "I've Got a Real Emergency, Here" (sung by Lou Rawls, written by Jimmy Webb) as its theme song."